Custom Pools -
New & Remodels
Nick Williams specializes in both New Pool Designs and Remodels
The swimming pool has often been the centerpiece of outdoor urban environments for the home. This "watering hole" provides a place to recreate, cool off in the hot summer months, and becomes a social gathering point for family and friends.


Click on the images below to view a larger display.


Photo 97

Photo 98

Photo 99

Photo 100

Photo 101

Photo 102

Photo 103

Photo 104

Photo 105

Photo 106

Photo 107

Photo 108
In the remodel section we'll tell you how Nick Williams has transformed the old style of kidney or square shaped pools into magical outdoor environments. By changing or modifying the shape, adding natural elements like firepits, boulders and stone, and sometimes using the infinity pool design, Nick reinvigorates the suburban pool and makes it a natural paradise in your own back yard!
Natural Pools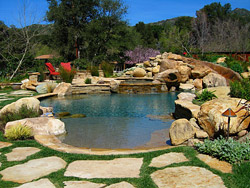 Natural pool designs have become the new and preferred way to style this important water feature for the home. The ideas here can vary but they have one essential theme—straight and squared edges of human building give way to the gentle curves of Mother Nature. The kidney shaped pool was the first iteration of this concept, but Nick Williams has developed it much further in creating wonderful natural designs that flow in graceful curves or are styled to appear as if they were natural ponds, some even fed by free flowing streams, styled or natural waterfalls and graced by lively fountains. These fresh new looks for pool design keep the essential theme of seamless integration with the garden, grounds or natural setting around the pool. Thus we get particular attention paid to how the edges of the pool are constructed, with the inclusion of boulders, unique tiling, flagstone, pool side planters, fire elements and other interesting features.
Nick Williams Natural Style Pools
Nick Williams Designs Natural Style Pools - For many years now Nick Williams & Associates has been specializing in creating natural style pools and environments that mirror and merge seamlessly with the natural settings around them. Check out the new video showcasing 3 of these Natural Style Pools.
nickwilliamsdesigns.com


Infinity Pools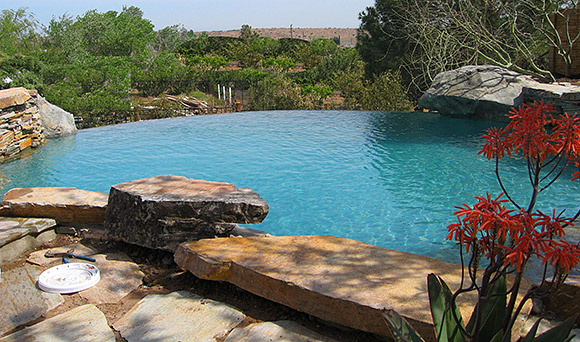 The infinity pool is becoming increasingly popular in sites where you have an unusually striking view, particularly one that stretches to a distant horizon. The water level along the edge of the pool facing this vista is elevated to the very top of that edge, and so from within the pool one has the sensation that they are sitting at the edge of infinity, as the local setting seems to blend seamlessly into the distance as the eye reaches out to the horizon. This concept can also be applied in a multi-tiered design, there the infinity edge of the pool is above another water feature, perhaps creating a waterfall effect into that lower space. The distinctive visuals of these pool designs make them unique and edgy additions to any natural setting.
Nick Williams Pool Process
The process Nick Williams uses to design pools is a very flexible and adaptable method for any setting. Nick will choose the highest quality materials, and utilize precise new methods he has developed to harmonize with Pebble Tec finishing. "Pebble Tec"® is a brand name pool finish—the original pebble pool finish, and still delivers the enduring natural elegance and durability that combines beauty with exceptional value. Available in 18 attractive shades, a Pebble Tec pool interior is the perfect choice for individuals desiring a more natural look for their pools, spas, or water features.
Nick Williams has added his own process, his own flair to the standard Pebble Tec design. In this process he mixes different types of stone with concrete, in various sizes, to create diverse surface textures, to simulate a shoreline, stream bed or forest pond. The finished Pebble Tec format will look natural in any setting. Also in designing pools, Nick considers how light interacts with the water, to create the illusion of deep depths in certain areas of the pool. Add some beautiful outdoor lighting from the Nick Williams lighting collection and you have finished the job!
(The Nick Williams Pool Design Process is very often added to his pools, whether they be remodels or built the beginning. (click here to view the article) The process is an artistic treatment using various colors, textures, different sized stones, pebbles flagstone, creating the illusion of depth coupled with using Pebble Tec, Nick usually works with a Natural Style Pool Design or Infinity Style pool which can also include the elements of the Natural style pool.
And you can even take the best of both worlds here by designing your natural pool to be an infinity pool!
NICK WILLIAMS POOL REMODELS
Great Ideas to take you pool remodel project to a magical new place!
Do you want to remodel your pool? »
Bring some real creative magic to your planned pool remodel!
When people generally think of remodeling their pool they usually think of doing things like changing the tile, perhaps building in an adjacent spa, or even changing the shape. But there is so much more you can do in a pool update you just apply a little creative imagination and the magic of Nick Williams and Associates!
For years Nick Williams has specialized in the integration of natural elements into all of his landscaping and outdoor environmental designs. By building in nature, to the design the pool, through the use of boulders and stones, sandy beaches, fountains, waterfalls, and creative lighting. you can transform a pool remodel into something quite magical. Nick Williams is often fond of saying that the outdoors is 'the biggest room you have' in your home. Your pool is a part of that great outdoor room but the key idea here is to design to integrate it with the environment.
SOME HIGHLIGHTS OF NICK WILLIAMS POOLS NEW AND REMODELS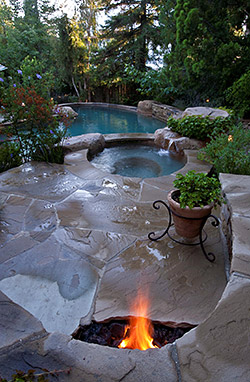 Using Pebble Tec etc or creating coral reef areas in pools.
For real natural looks, creating real and faux boulders around the pool to make it seem as though the pool was created around the existing boulder, and not the other way around.
Incorporation of sandy beach areas using a special type of sand that has a nice texture and feel for your feet.
Creating organic curves to pools instead of sharp edges and hard 90 degree angles.
Nick often redesigns the pool to incorporate other features like spas and waterfalls, and he also often relocates the pool to a more suitable area, being aware of the view as well as areas for other outdoor features.
He will often make fewer deep areas and build in more wading areas- this means you use less water used, and fewer chemicals to maintain the pool.
He usually recommends removing diving boards, which are one of the most dangerous features of any pool. Instead he creates more shallow areas play areas designed to invite you gently into the water. For those that like to make their entrance with a big splash, Nick can also take that urge into consideration in any design, such as adding boulders to jump and dive off.
MOTHER NATURE'S POOL - "Natural Style Pool Blends Seamlessly with the Landscape"
For many years now Nick Williams & Associates specializes in creating environments that mirror and merge seamlessly with the natural setting around them.
Check out the new article in Garden Design, titled Natural Style Pool Blends Seamlessly with Landscape front Cover http://www.gardendesign.com/ and the story http://www.gardendesign.com/ideas/my-garden-natural-style-pool-blends-seamlessly-with-the-landscape
You can view "The Making of Mother Nature's Pool" Video