Biography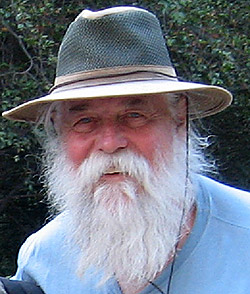 Nick Williams is one of the lucky ones.
Even at the young age of 12, encouraged by his artist mother and influenced by a plant-loving family, Nick recognized his passion for garden design. Winning horticultural awards throughout his school years, he soon established an up-close and personal relationship with a variety of plant materials, many of which continue to dominate his plant palette many years later. With a keen appreciation for textures and anything out of the ordinary, Nick's designs reflect a strong collaboration with the ideas and aesthetics of his favorite heroes - Frank Lloyd Wright, Cliff May, and John Muir.
Nature and Her elements of life - earth, air, fire and water - are the most striking forces that appear in Nick's work. Rich with design elements, including large boulders, water features, wood structures and a variety of stone materials, his outdoor-living creations gently invite one out through the door of the house and into the sights and sounds of the outside world.
With many years of experience in home renovation for his own personal pleasure, Nick has tapped into an exciting fashion of "bringing the outdoors in" for his clients. The use of French doors in lieu of windows and the creation of outdoor "living rooms" -- which include fireplaces, BBQ centers, and areas for food and drink preparation and entertaining -- add to the feeling of comfort and elegance. These purposefully placed features, along with the sounds of water falling over rocks into pools and ponds, can sometimes confuse even the most trained eye in determining their actual whereabouts in a Nick Williams' designed yard!
Remember - good design doesn't have to cost more money - it's just good design!

Do you have a design question or need advice on planting materials, etc? Click below to email your query to Nick Williams.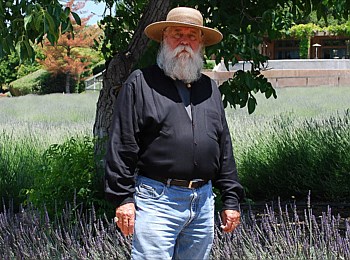 Nick Williams Interview (The Largest Room You Have)
Designer Nick Williams shares a few thoughts about his passion and full-time love, landscape design, and takes pride and satisfaction from the fact that his work has helped so many people experience the transformative and healing experience that living outdoors can bring. "It's the largest room you have," says Nick, and he has devoted himself to crafting wonderful outdoor settings, gardens, landscapes and "outdoor rooms" for over 50 years.
Nick Williams and Friends Ping Pong Reel
Many of you know not to ask for an appointment or get together with Nick late in the day on a Thursday! Because for the past 20 + years on Thursday late afternoons you will find Nick and friends playing ping pong, enjoying the game, a little friendly competition as well as letting loose and letting go….and allowing for all new and exciting creative energy to grow and flow! Share the fun. Filmed at the Lighting Showroom and Warehouse ».
Chatsworth Pongers #2
E-Newsletter and E-Updates!
Check out the electronic newsletter here on our website by clicking the E-NEWSLETTER button on the left! If you would like to be included on our e-mailing list to receive information and updates about all kinds of informative and interesting topics related to gardens, email info@nwadesigns.net.
See our Nick Williams article in Outdoor Living magazine:
Fall on Nick Williams and the Article Down the Garden Path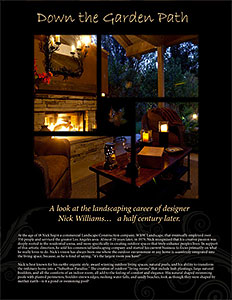 Click here to view article.
The Nick Williams Collection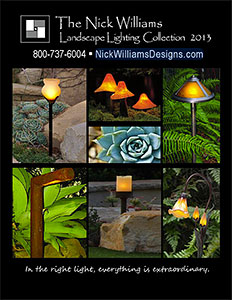 Click here to view article.